Fashion brands small and large have traditionally sold wholesale via face-to-face interactions – at trade shows or showrooms or the offices of the big retail stores. Over the past few years, you may have gotten on to a wholesale marketplace such as JOOR or NuOrder. These strategies or techniques have served you well over the years but is it time to look at your own store?
The retail landscape has changed drastically over the last 10 years, to the extent that even the smallest boutique cannot survive without an eCommerce store. The shift from brick-n-mortar started gradually but soon became an avalanche that swamped the entire fashion space where most brands are either click-n-mortar or sell exclusively online.
Global B2B eCommerce revenues
A similar shift is expected in the wholesale world. According to Frost & Sullivan, global B2B eCommerce revenues will reach USD 6.7 trillion by 2020 and account for 27% of the total. In comparison, worldwide retail or B2C eCommerce revenues are only projected to reach USD 4.1 trillion. These numbers show that overall B2B eCommerce revenues will be 63% higher than B2C eCommerce revenues.
What about the fashion industry?
Looking at the apparel, footwear, handbags and accessories market in the United States alone, retail eCommerce revenue is expected to reach $122 billion by 2020 and $145 billion by 2023. All indications are that wholesale or B2B eCommerce is smaller but, in keeping with the overall trend, will grow at a faster pace to exceed the size of retail eCommerce.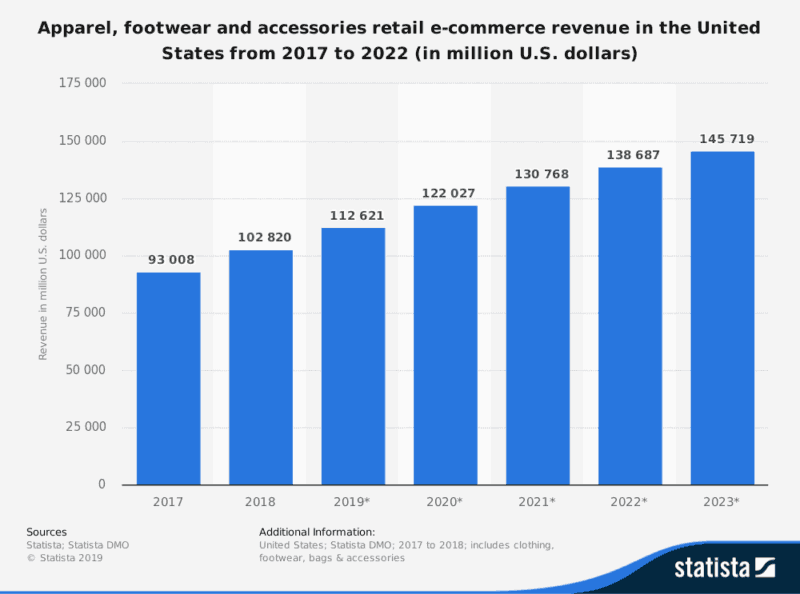 Should you make the transition to B2B eCommerce?
If you haven't already established your own eCommerce store, you should consider doing so with a high degree of urgency. As you have seen with the retail side, the shift to eCommerce even on the wholesale side will become a sudden avalanche and you do not want to be caught unprepared or lagging behind your competition. On the contrary, you are already competing with hundreds of other brands all the time and want to gain a competitive advantage wherever possible.
It is not really a transition
When you establish a wholesale eCommerce store, you are not really stopping your traditional selling approaches. If you have a sales team that is knocking on doors, you will continue to do that. If you present at tradeshows, you will continue to do that. Retailers sell online as well as in-store and wholesaling will not be that much different. You may continue to acquire most of your customers via traditional methods but engage and service them online.
Five advantages you gain over brands that do not have a wholesale eCommerce store
1. Reduce friction in the buying process
With order sheets and phone calls, there are so many hurdles along the way to close a sale. Availability of people alone can delay actual purchases. Giving your buyer 24×7 access to your store even from mobile devices can speed things up. You can enhance their buying experience by customizing the product catalog and pricing specific to the buyer along with highlighting their favorite products.
2. Sell more to current customers
Average order values tend to be higher online than in-person. There can be upsells on the site with such things as you see on Amazon – "You may also like …" or "Commonly purchased together". Apart from the site, you will also be able to include these types of upsells on automated emails such as order confirmations, invoices, shipment notifications. These often result in incremental sales from those same buyers.
3. Reach new territories
With an online store, your reach becomes global. You can now be selling in regions beyond where your sales team can reach. With the automatic search engine optimization, potential customers from around the world can be reaching you themselves.
4. Empower your customers/buyers
Provide your customers with the ability to place orders any time of the day even from their phones or tablets. Give your customers easy access to information such as order status, shipping status, payments due, etc. any time without having to reach you.
You may not realize how important this is to your customers. This convenience alone and not having to wait around for a response from you or your sales or customer service people can be a significant competitive advantage.
5. Real-time inventory
For seasonal products, when you want to sell your remaining available to sell (ATS) inventory, how likely are you to close out those products online, if your buyers can see exactly what is available and can place orders only up to those levels? This can be a huge benefit for any brand that produces a higher volume than their confirmed orders prior to production.
I sell on a marketplace such as JOOR or NuOrder
If you are on a marketplace, you are building a house on somebody else's property. You are probably paying a hefty sum on commissions. If they choose to raise prices, you have no leverage whatsoever. If you want to move away, you can lose everything you have built. When you establish a B2B eCommerce store on your domain, with your branding, it is something you control. If you do not like your current provider, you can move to another.
I recommend that you continue to sell on the marketplace but establish your own eCommerce store. You see retailers that sell on eBay or Amazon then successfully attract those customers to their own site. Phil Masiello wrote an excellent article on this topic at Practical eCommerce titled "How to convert Amazon buyers to your customers (without breaking the rules)". The same idea can work effectively with wholesaling, at least with the smaller buyers.
It is so easy
With a software platform like Uphance, it is so easy to get started with your own B2B eCommerce site. Why wouldn't you do it?
Common objections I have heard:
My buyers are so used to paper. They will never use an online system.
Give it a try. You will be surprised.
I will do it once I am ready.
Once you have your products, prices, and images set, launching your B2B eCommerce site literally takes minutes and not hours.
What are you waiting for?