Bringing Your Vision to Life With Tech Packs


Got a unique, awesome hoodie, jacket, or shirt design idea you want to bring to life? You will need a tech pack for that.  Don't let the name throw you off: it's not as technical as you might think. 
A tech pack, basically, is a document that contains specifications and design details of a product. It looks something like this: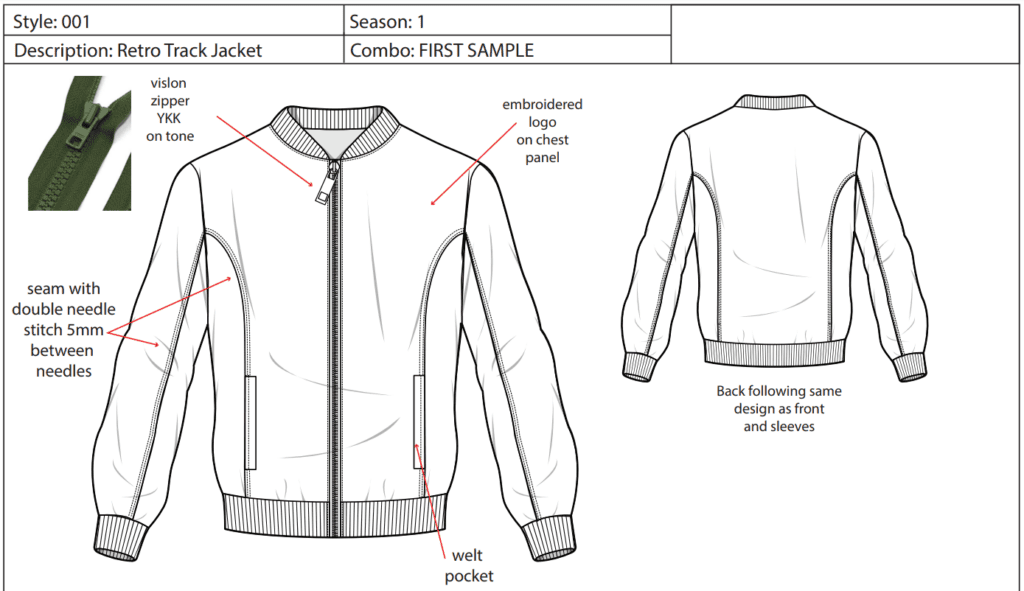 Tech packs aren't only meant for hoodies, jackets, or shirts. They will also come in handy for hats (and other headgear), dresses, streetwear, knitwear, sweatpant…the list is endless. 
We are guessing you have a fair idea of what tech packs are but probably have a limited idea of how to create one. Or maybe you've started creating one already but are stuck on figuring out the right components to add.
Whatever the case, this post is for you. In it, you gain better insights into tech pack design, why you need them, and most importantly how to create one. 
Let's just straight right into it!
Demystifying Tech Packs: All You Need to Know
Some call them specification sheets. Some others prefer to call them by their full name: technical package. Nevertheless, they all mean the same thing. 
A tech pack, in the simplest sense, is a blueprint of an apparel product. They are meant to instruct a manufacturer on how you want your garment created. They serve as the bridge between fashion design and production. 
Tech packs contain essential information and specifications required to create a garment, ensuring consistency and accuracy throughout the manufacturing process. 
Without a carefully thought-out tech pack, your manufacturer can create products marred by errors and are a far cry from what you had in mind. Correcting these errors can take a toll on your business.
Here's what a full-fledged tech pack looks like.
Why Tech Packs Are a Must-Have
When you think about the considerable amount of time – and money – it takes to create a well-crafted tech pack, it's easy to wonder if it's worth it anyway. Well, it is and here are some reasons why:
1. Breathes Life Into Your Idea
Tech packs make it easy to turn ideas into reality. Putting a design idea to paper gives you clarity, allowing you to create products your customers will like. Most importantly, it lets manufacturers know exactly what you want, eliminating guesswork.
2. Helps With Cost Estimation
One of the vital components of a tech pack is a Bill of Material, or BOM for short. It lists out all the components that will go into the finished product as well as their unit cost. 
This document makes it easy for garment manufacturers to give you an accurate quote.
3. Saves You Cost and Time
By reducing rework, errors, and sample iterations, tech packs save valuable time and resources, leading to faster turnaround times and cost efficiencies.
4. Reduces Time to Market
You want your products to go from the drawing board to the market faster, right? A well-crafted can make this very possible. Furthermore, it enables you to spot potential bottlenecks that can slow the production process and address them quickly.
5. Enables Real-Time Collaboration
Creating a tech pack makes it easy for you to collaborate with your manufacturer in real-time, making adjustments and adding finishing touches to ensure a smooth production run. 
And if you work in a team that consists of designers, pattern makers, and graders, a tech pack can foster seamless communication amongst you.
6. Scalability and Reproducibility
With accurate grading rules and specifications, tech packs make it easier to scale designs across different sizes and reproduce garments with consistency.
What Should Your Tech Pack Contain?
The secret to creating a great tech pack is knowing what you should include – and things to leave out. As a rule of thumb, the more detailed information you add to it, the better for you and your manufacturer. 
That being said, here are the essential components a well-thought-out tech pack contains:
Technical sketches 

Colorway sheet

Fabric type 

Measurement specification 

Bill of Material (BOM)

Cost sheet

Care instruction 

Branding sheet

Artwork sheet

Reference sheet
Let's now get into detail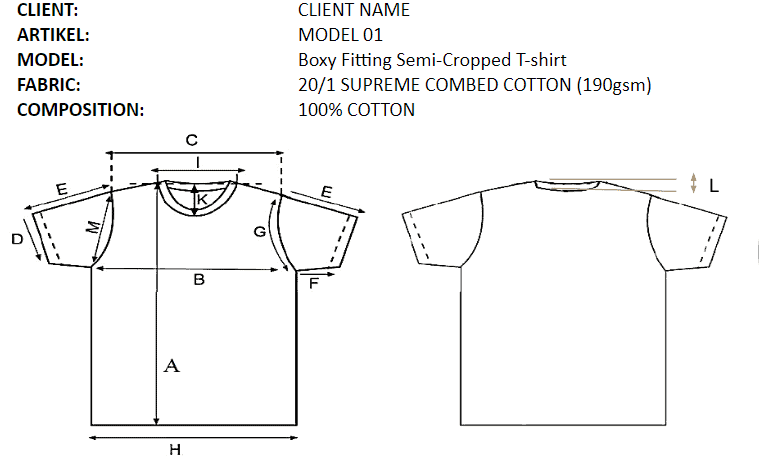 What's a tech pack without a technical sketch? Also called fashion flats, technical sketches are simple, two-dimensional drawings made with just lines, illustrating a piece of fashion product. 
Technical sketches provide your manufacturers with visual cues to help them understand exactly what you want. It doesn't have to be so fantastic though – just good enough to communicate your ideas. 
The key to creating a good technical sketch is adding as many details as possible. 
How to Draw a Technical Sketch
The easiest way to draw a technical sketch is by using pencil and paper. It's easy and effective.  
Although you can use any type of paper, it's best to use a grid paper.

Besides a grid paper, you will also need a ruler and a curve guide. 
If pencil and paper won't work, consider using a vector program like Adobe Illustrator. It will take you a while to get the hang of it, but it will be worth the effort.
The colorway sheet is where you show the colors you want for your garment. For instance, if you wish to create a hoodie with only one color (say blue), your tech pack will have only one colorway. 
If it's two colors, then two colorways. On and on like that. 
To create color sheet, simply apply your designed color to the sketches you created earlier.
It's a bad idea to describe your colors by their names. Instead, use the Pantone Color System. Why is this important? 
If you instruct your manufacturer to use color blue for your product, there is a good chance they will use a variant of blue completely different from what you want. Using a Pantone color number forestalls this. 
You can easily access Pantone color codes from graphic design programs like Adobe Illustrator. If this won't work, consider purchasing a Pantone color book.
A tech pack is definitely never complete without detailed information on the material you want a manufacturer to use. 
Besides listing out the type of fabric you want, it's also important to highlight the fabric grade you are looking for. 
When it comes to material type, the popular ones to choose from include pure cotton, cotton fleece, french terry (mostly used for hoodies), polyester, and spandex. 
It's also important to highlight your desired fabric weight. There are two major types of scales for measuring the weight of fabric: Ounces (within the US) and GMS (Grams per Square Meter, outside the US). 
Not sure the kind of material to use? That's not a problem. One workaround to try is to find a sample of the fabric you are looking for, cut a portion of it and then send it off to the manufacturer together with your tech pack. 
Alternatively, you can reach out to a fabric/textile mill and ask them to help you with a material suggestion.
4. Measurement Specification
The measurement specification sheet, as the name implies, is where you detail your garment measurements as accurately as possible. Ensure that the measurement for every component, even to the minutest detail, is properly highlighted to avoid sewing errors. 
Also, outline the allowable tolerance for every measurement.
5. Bill of Material (BOM)
The bill of material is a sheet that lists out all the materials, including trims, that will go into your garment. By trims, we mean accessories you will want to add to your garment, including zippers, buttons, velcro, interlinings, etc. 
Like measurement spec, it's important to be as accurate as possible when creating the BOM, as this will help with accurate costing. 
Here's what a BOM looks like.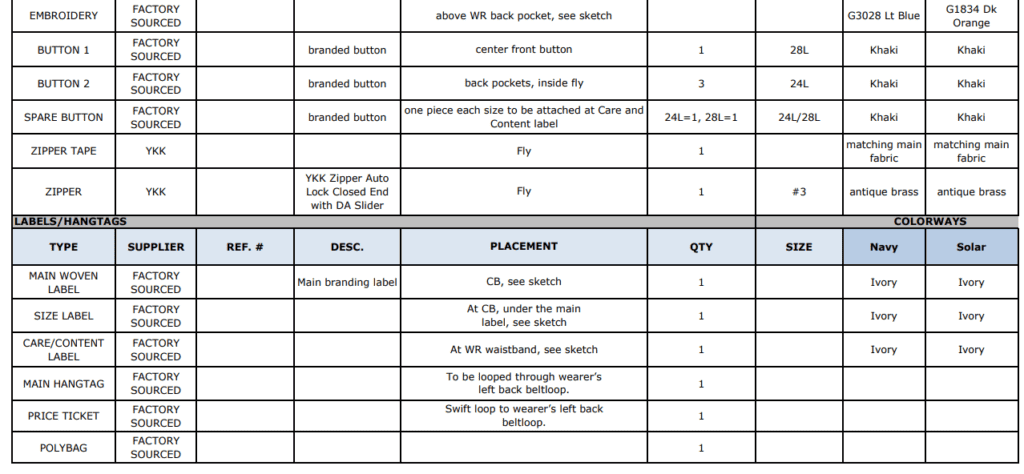 It's important to have an idea of what it will cost to produce the garment you have in mind. This is where the cost sheet document comes in useful. 
This document outlines every single cost that goes into producing a garment. This includes material, labor, shipping, production fee, and many more.   
Having a good idea of the unit cost will make it easy for you to determine the right retail price for your product.
Care instructions are guidelines end users need to follow to ensure the products they purchase from you last long. For instance, it can outline how frequently the garment should be washed and the materials to use. 
Your tech pack should contain care instructions, though this is usually done by the manufacturer.
This is where you add details for garment labels, hangtags, badges, and custom finishes.
Got a unique artwork you would like imprinted on your product? The artwork sheet is where you add it.
This is where you attached reference materials you will like your manufacturer to use for your garment.
Additional Information to Include in Your Tech Pack
Other optional details to add to your tech pack for better detailing include: 
Style number

Product season 

Category

Gender

Quantity 

Sample size

Description

COO (country of origin)
Microsoft Excel has long been the defacto tool for creating tech packs. But creating tech packs with an Excel sheet can be a harrowing experience. As such, you are better off looking elsewhere for a solution. You need an apparel PLM solution with a tech pack creation capability.
And what better solution to use than Uphance?
Uphance lets you develop tech packs for your products across different development stages. This includes Prototype, Sampling, Preproduction and Bulk production stages.

You also have the option of adding Start, Due, and Completion dates for each development stage. 
In addition, you can upload your sketches and add descriptive notes to them, making it easy for your manufacturer to understand your sketches. You can always edit or delete the notes whenever you want.  

And you can add as many sketches as you want. 
Moreover, you can add size and grade specifications while developing your tech pack in Uphance.

You also have the option of adding tolerance limits to your size specification and uploading your BOM as a file. 
And when you are done, you can download the tech pack as PDF or email it to your contact. 
You also have the option of removing certain components from your tech pack design before downloading it. If you wish, you can attach a document along with it. 
Ready to take Uphance for a spin? Schedule a demo right away.
Tech packs let you bring your vision to life. They serve as a communication tool to instruct your manufacturer exactly how you want your garment to turn out. 
Lucky for you, creating a detailed, compelling tech pack isn't rocket science. Just follow the tips we've shared here.